Belgisch Tijdschrift voor Nieuwste Geschiedenis, LI, 2021, 4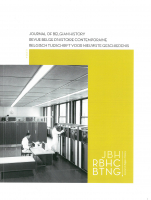 Dit vierde en laatste nummer van 2021 telt vier individuele artikelen en enkele nieuwe literatuurrecensies.
Ce quatrième et dernier numéro de 2021 présente quatre articles et quelques comptes rendus critiques de publications récentes.
This forth and final issue of 2021 contains four articles and several book reviews.