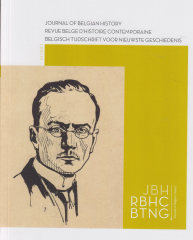 Journal Belgian History, L, 2020, 3-4
2020 3-4
Het laatste dubbelnummer van 2020, met vijf artikelen en boekrecensies - Le dernier numéro double de 2020, avec 5 articles et des recensions des livres - This final double-sized issue of 2020, contains 5 articles and book reviews :
Jan Naert  - Burgemeesters in de vuurlinie. Lokale bestuurders in België en Noord-Frankrijk tijdens de Duitse invasie in 1914
Alain Rahier - Comment financer une occupation ? L'espace belge partagé entre régimes anglo-hollandais et prussien (1814-1815)
Iris Flagothier - Envisager le militantisme wallon au prisme du genre. Les cas de l'Union des Femmes de Wallonie et de Marguerite Horion-Delchef
Heidi Degerickx, Angelo Van Gorp, Lieselot De Wilde and Griet Roets  - Giving voice to people in poverty in Belgian social policy making since the 1990s : A window of opportunity for a political demarche?
Nico Wouters - Vindevogel : historische waarheid en beeldvorming over de repressie in Vlaanderen